Solidarity: Digital Strategies for Creative Resilience
JULY 1-3, 2021, UK PAROBROD, Belgrade
* Application deadline: May 28, 2021, 23:59 CET  EXTENDED until June 4th, 23:59 ETC
FULL SCEHDULE ANNOUNCED ! Find out more here.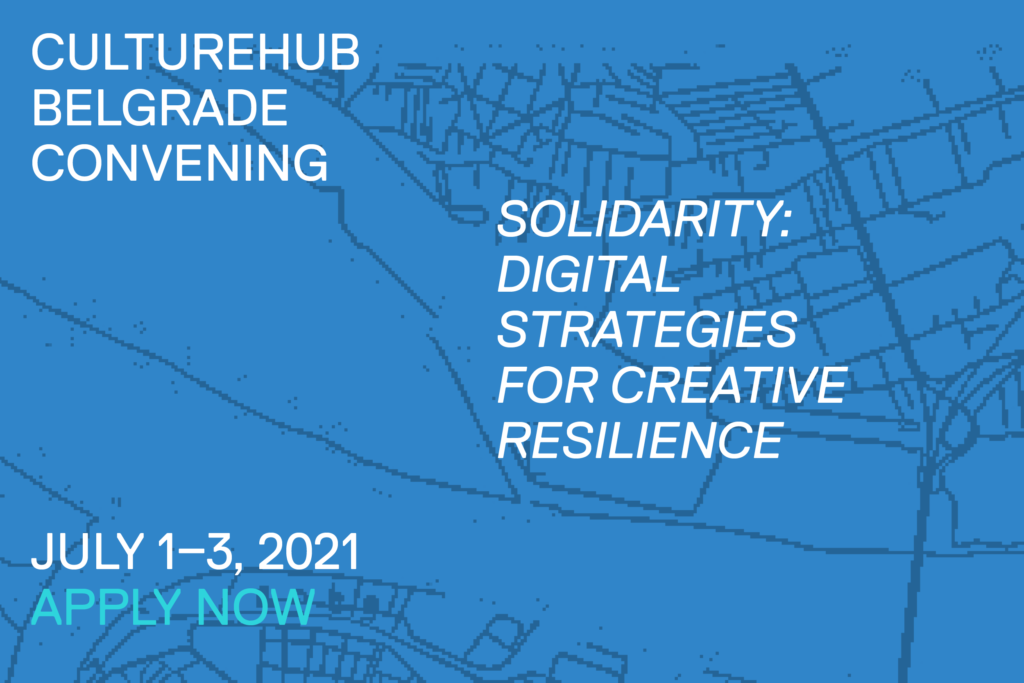 Centering around the theme Solidarity: Digital Strategies for Creative Resilience, the CultureHub Belgrade Convening is a platform for artists, technologists, educators, and activists to share and disseminate digital methodologies for artmaking and cultural exchange.
Hosted by CultureHub and Eho Animato in partnership with La MaMa Experimental Theatre Club, Seoul Institute of the Arts and American Corner in Belgrade, the Convening will take place in Belgrade July 1–3, 2021, sparking new relationships and opportunities for international collaboration and cultural exchange that are flexible and responsive to crisis by design.
The CultureHub Belgrade Convening merges the in-person with the digital, and local with global to explore the future of art making and international collaboration. Over the course of 3 days, the CultureHub team will conduct workshops and trainings, supporting local actions and performances and sparking new relationships.
Would you like to meet the international art&tech community and develop creative skills in new media technology and performing arts?
Practical and collaborative, the convening will consist of trainings, workshops, discussions, networking, and on/offline performances. The selected participants will attend three sessions each day: morning trainings on the creative use of different technologies and digital tools, afternoon collaborative development of digital performances in smaller groups and evening programs – presentations of the work in progress, performances and discussions. All sessions are mentored and supervised by CultureHub members.
Apply to develop and expand your ideas in an international art&tech environment creating sustainable methods for presenting international work and fostering cross-cultural collaborations.
A full schedule and workshop descriptions is forthcoming!
The convening will take place in UK Parobrod and part of the programs will be available online or in hybrid form. Recommended measures for protection against COVID-19 will be respected.
We will be exploring:
creative uses of technology
hybrid performance (IRL/URL)
sustainable artistic practices
360 video, livestreaming, a/v performance and much more
Specific eligibility criteria
The applicants should be active in one or more of the fields of creative technologies (coding, developers, gaming), performing arts (performers, writers, directors), a/v performance etc.
No restrictions in terms of participants location (all costs must be covered by the participants)
The applicants can be both students or professionals
English will be the primary language of communicating
No experience in technology or media arts necessary!
* Application deadline: May 28, 2021, 23:59 CET EXTENDED until June 4th, 23:59 ETC
Organizers
CultureHub, New York
La MaMa e.t.c., New York
Seoul Institute of the Arts, Seoul
Eho animato, Belgrade
The CultureHub Belgrade Convening is supported in part by the Trust for Mutual Understanding.
Facilitators
Billy Clark, founding Artistic Director – CultureHub
Mia Yoo, Artistic Director – La MaMa e.t.c.
Mattie Barber Bockelman – Producing Director, CultureHub
Jean Garcia – Video Production Coordinator, CultureHub
Olivia Jack – Resident Artist, CultureHub
IMPORTANT DATES
May 14 – Open Call Released
May 28 – Open Call Deadline – EXTENDED till June 4th
June 3rd – List of participants published – RESCHEDULED FOR June 8th
July 1-3 – CultureHub Convening in Belgrade
CONTACT
For further information, please contact: belgrade@culturehub.org