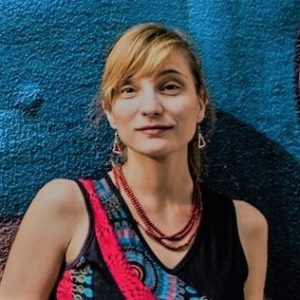 Nevena Paunović graduated from the department of Theater and Radio Production of the Faculty of Dramatic Arts in 2007. Between 2005 and 2009, she worked as the executive producer and public relations manager in Little Theater Duško Radović. In this period, she was also on specialization in The Royal Drama Theater Dramaten in Stockholm, as a holder of the Young Talents Found stipend.
She worked in Bitef festival as an international troupes leader from 2008 till 2015.
As a holder of the Erasmus Mundus scholarship, Nevena finished the International Performance Research masters program at the University of Warwick, England, and University of Amsterdam. In cooperation with the Youth Center of Belgrade, Cultural Center Rex and Horkestar choir, she produced the regional Festival of Self-organized Choirs in 2011.
She worked as an assistant on the European program Culture 2007 – 2013 in the Point of Cultural Contact of Serbia office within the Ministry of Culture in 2012 and 2013.
Since 2015, she has been working independently as a manager of numerous podcasts in the fields of philosophy, documentary film, music, business and personal development (Future Thinkers, Factual America, OutsideVoices, The Lone Star Plate, etc.).
Besides professional engagements, Nevena was also a member of several bands that she performed with in music festivals in the country and has published an EP.