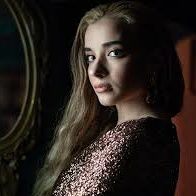 Tamara Popović (1997) graduated from the Management and Production Department of the Faculty of Dramatic Arts in Belgrade in October, 2018.
She is a founder and organizer of first concerts for children from the Children's Shelter, which have been taking place in the Sixth High School in Belgrade since 2012. She started the project Your World, Your Creation (2015) – focused on high school students and connecting their interests within performing arts.
She worked as a producer / organizer in numerous festivals, such as: The Auteur Film Festival (2015 – 2017), Beldocs (2019), Bitef (2016), Festum (2016, 2018), Doc 'n' Rhythm (2016). She was an assistant at the acting workshop of the Summer Art School of the University of Arts Belgrade (2016). In the 13th Festival of International Student Theater FIST (2018), she was the director of the socially responsible program and social media manager.
She worked as a production assistant at the Youth Center of Belgrade from June until November 2018.
Tamara currently works at the National Theater in Belgrade in positions of protocol organization, PR and social media management.
She is also a singer / songwriter signed for Universal Music Serbia and she performs on stages across the country and the region. She also writes songs for other artists and occasionally performs as part of the hip-hop collective Zicer Inc.