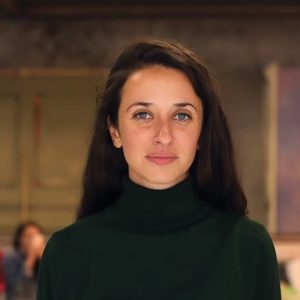 Marina Ćetković is an independent theatre-maker, dramaturg and writer from Serbia. She holds an MA degree in dramaturgy at Faculty of Drama Arts in Belgrade and a diploma from the Moving Academy for Performing Arts (MAPA) Amsterdam.
Marina co-founded Teatarmaher, a theatre-collective that focuses on site-specific and devised theatre productions, exploring the modes of collective authorship.
Marina is a writer and dramaturg of many theatre productions and writes for theatre, film and radio. In 2015, her play Throw It won the best original radio play award at Radio Belgrade.
As part of the Artist Residency Programme of ETC (European Theatre Convention), Marina worked at the Slovensko Narodno Gledališče Nova Gorica as assistant director for the production of Galileo, directed by Zoran Petrovič.
Within the collective Eho animato she worked on the following projects: