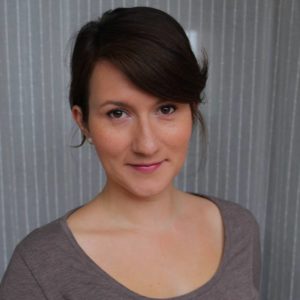 Ana Konstantinović (1987) is a theater director, founder and curator of Eho Animato. She holds a degree in theater and radio directing from the Faculty of Dramatic Arts in Belgrade, where she is currently finishing artistic doctoral studies.
She worked in the Student's City Cultural Center as a coordinator of several festivals. She was also coordinator of the International Federation for Theater Research World Congress in Belgrade in 2018. Currently, she is working at the National Theater in Belgrade, where she is the program editor of Platform, a platform for audience development and education of performing arts professionals. 
She participated in numerous workshops and international projects like Terre Promesse / Bussole Rotte (Milan, Italy), Europe Unlimited (Hannover, Germany), Augenblick mal! (Berlin, Germany). She has directed theater performances, radio plays, public readings and performances, such as In a Glass Ball (Cultural Center Pavilion, Hannover), The Tempest (Regional Theater Novi Pazar), The One and the Other (Faculty of Dramatic Arts, Belgrade), Along the City Skies (Youth Center of Belgrade), I Bei Tempi and Home (Academy Paolo Grassi, Milan, Italy).
She stands for process theater, community inclusion and constant exploration of form and content.
Within Eho animato, she worked on the following projects:
Tennessee Williams Centennial Celebration