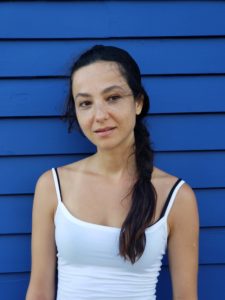 Milica Stefanović (1986) holds a degree in acting from the Academy of Art in Belgrade, class of Prof. Nebojša Dugalić.
She also graduated from the Moving Academy for Performing Arts (MAPA, Holland). She has attended numerous workshops, most notable being the years-long working with Scott Fielding (Michael Chekhov Method) and College Teatro program of the Venice Biennal where she collaborated with Needcompany and director Jan Lauwers.
Since 2011, she has been a member of French dance troupe Lamaison, led by director Coraline Lamaison. Within the troupe, she worked as an actress in projects Vulerables and La mort des sentiments. From 2009 till 2014, Milica worked in the Heartefact Foundation on art production and as and actress in its productions. In 2015, with a group of colleagues, she founded the Teatarmaher theater production that deals with exploring new theatrical expressions with an accent on physical theater. Going Out was their first production, focused on exploring the escapist sentiments of young people in Serbia.
Milica's most notable performances include Hypermnesia (dir. Selma Spahić), Finger (dir. Ana Tomović), Moving (dir. Jovana Tomić), and she was awarded Best Performance Award at the Joakim Vujićfestival for Our Ancestors, Eat With Us (dir. Stevan Bodroža).
She also appeared in several films and TV series, most notably Morning Will Change Everything (dir. Goran Stanković, Vladimir Tagić and Milica Tomović, 2019), Asymmetry (dir. Maša Nešković, 2017) and When I'm Home (dir. Ivana Todorović, 2018).
Within Eho animato, she worked on: